Master-class. Development of product and and work structure using Thinking processes of Theory of Constraints and Lean Engineering Methods
The most common mistake in the project planning process is the inadequate analysis of the initial requirements for the product and the necessary conditions for its development.
I'd like to present formalised tools for identifying the necessary conditions and composition of the product, developed in TOC and Lean.
Master-class might me interesting for top-managers, project managers, business analytics, employees in charge for scope and schedule planning.
Dmitry Egorov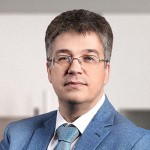 Managing partner, Viable Management System