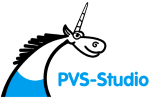 PVS-Studio
We develop, market and sell PVS-Studio; a static code analyzer for code written in C, C++, and C#. This is a tool for programmers, which significantly saves the finances of a company through the early detection of errors in code, by performing analysis of the source code.
Our mission is the improvement of code quality. Our task is not just to find errors, but to improve the quality and standards of software development.
PVS-Studio is a tool for detecting bugs and security weaknesses in the source code of programs, written in C, C++, and C#. It works in Windows, Linux, and macOS environment.
PVS-Studio performs a wide range of code checks and generates a report that helps a programmer find and fix bugs.