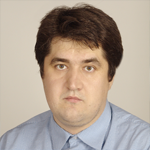 Aleksey Drozhzhov
Ведущий эксперт по развитию технологий, Mera NN
We have blind member in our team. How we adjusted to associated challenges?
October 13, 11:50
Room IV|IV зал

Last year one of our team members completely lost his vision.
Since then he relies on screen readers and voice calls for all project communication.
Since charts and graphs are not an option team come up with rules for text based communications and standards used for documentation.
Also new routines were introduced to online meetings.
So we would like to share our findings in this area.