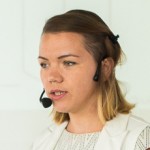 Anastasiya Aseeva-Nguen
Consultant, Test Automation Team Leader, Coach in engineering practice, Alfa Bank
Leading test automation expert and engineering practices trainer from Alfa-Laboratory.
I'am rocking QA-industry since 2012. Has passed all roles ranging from manual QA to QA Lead.
I've been in IT since 2007, started as developer and system administrator.
For 4 years I was involved in testing of more than twenty projects, participated in development of two test automation frameworks.
I was engaged in adoption of hybrid cloud infrastructure in Bank.
My mission is spreading of culture of quality and DevOps.