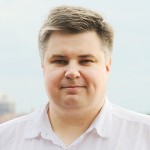 Dmitry Soldatenkov
CTO, TAU Technologies
In school I understand – programming is my main interest.
I worked in one of the first Russian companies to develop computer games. Then work on a large product for developers (TogetherSoft / Borland). During my career my interests shifted to the mobile platforms, and currently I work in this area more than 13 years.
I worked at Vivendi, TogetherSoft, Borland, LG Electronics, TWP, Rhomobile, Motorola Solutions, Zebra Technologies.
Development native and hybrid applications for Sailfish Mobile OS RUS
October 13, 15:10
Room IV|IV зал

History of creation and prospects of the mobile operating system Sailfish Mobile OS RUS.
Technological heritage and architecture of the platform.
The Qt framework is the main tool for developing native applications.
Cross-platform development and Sailfish
Develop applications using the free open-source cross-platform solution Rhomobile.