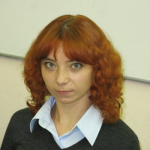 Ekaterina Politsyna
Associated professor, Moscow Aviation Institute (National Research University)
Graduated from the MATI-RSTU named after K.E. Tsiolkovsky, the department "Computer systems design", PhD in technical sciences. More than 10 years of experience in software development, system design, project management in a number of companies. More than 13 years in the field of scientific research in computer linguistics developing tools for automatic text processing in Russian. Participant of Russian and international conferences and competitions.
Development of the Cross-platform Library of Morphological Analysis of the Russian Language Text for Industrial Software
October 13, 11:50
Room III|III зал

The need to automate text data processing leads to the need of using computer linguistics tools in industrial systems of different kinds (document management systems, e-commerce, etc.), which imposes additional requirements on the means of automatic text processing.
Comparing to the more lenient requirements for research tools, libraries that meet the requirements of performance, reliability, compatibility with modern modern programming languages, project assembly, etc. are needed in the industrial systems.
The report suggests a new cross-platform library of morphological analysis for the Russian language with open source code which can be useful for developers of information systems and researchers in the field of computer linguistics to obtain the initial forms of a word or generate the desired word form from the specified set of morphological characteristics.