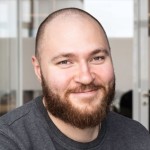 Georgiy Mogelashvili
Senior Developer & Team Lead, Booking.com
In his 10+ years experience Georgiy had a chance to work for small local companies, country scale enterprises, non-profit organisations and international corporations.
Today Georgiy is working at Booking.com, world's leading online travel agency. His role there – Senior Developer and Team Lead, and he is responsible for company products development as well as people management.
Georgiy believes that main skill each manager should have is openness – ability to honestly and fairly talk to your direct reports and people around you in order to achieve results together.
In his spare time Georgiy likes building Lego Technic creations, planespotting in airports around the world, and spending time with his wife and little daughter.