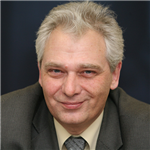 Igor Agamirzyan
Vice-President, NRU HSE
Igor Agamirzian is the SECR Program Committee member since 2005, when it was founded.
Igor is leading expert in the field of computer and information technologies, venture investments and innovation-technological business.
For many years Igor Agamirzyan enters the ratings of the Russian managers of the computer business ("DATOR Top100" 1994 – 1998, "international Computer Club" – 1997).
In 2002 entered the "TOP 100 Russian IT-industry" according to the newspaper "Kommersant".
In 2007 was included in the list of "top 100 Best managers of St. Petersburg; in the 2010, 2012 and 2013 was in the Top 10 managers in the financial sector of the joint Association of managers of Russia (AMR) and Kommersant newspaper's "Top-1000 Russian managers".
He has published more than 25 papers on the theory of programming, a number of articles on the information society and computer business, on the concept of "electronic government".
Igor Agamirzian graduated from the department of mathematics and mechanics of Leningrad State University, specialty "Applied mathematics" at the chair of software of computers in 1979.
Keynote
October 12, 09:55
Room I|I зал