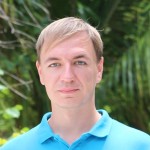 Igor Demin
Senior Software Engineer, Nexign
Java Developer by day, Applied Cryptography Enthusiast by night.
A Briefer History of Cryptoanarchy
October 13, 15:50
Room I|I зал

The topic is largely unsolved, but definitely worth attention. On every corner now selling the "Blockchain", the cryptocurrency courses are broadcast along with the oil price and the dollar… The audience will learn what really was behind all this, what drove people, whose obsession and work allowed it to happen.