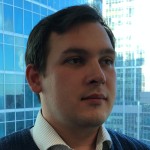 Igor Khapov
Head of virtualization development department, Science and technology center, IBM
Team manager and technical expert with more than 10 years of development experience. Speaker in 3 technical Hyperledger meetups. Submitted disclosure in blockchain area.
Filed patent "Portable Dynamic Binary Translated Multi-Architecture Container Images" and "Scheduling and simulation for cloud migration".
Cloud and Docker expert. Mentor for 7 hackathons. Speaker in multiple conferences ( including SECR)
How serverless computing in data science can help to utilize your resources
October 13, 15:50
Room III|III зал

Speaker will describe serverless technology, different use cases and how this approach can help you to utilize your resources.