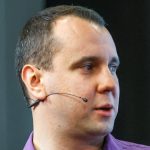 Igor Suhorukov
Senior Big Data engineer, Align Technology
I am Java developer with deep knowledge of open source software. I works on IMDG and big data applications last 5 years. Contributor of spring framework and spring-boot projects.
Comparison of Big Data solution to process large amount of biomedical data
October 12, 13:00
Room II|II зал

In this report we compare AWS Redshift, Greenplum, CitusDB, Druid, ClickHouse, CrateDB, PrestoDB, Apache Drill, Dremio, Apache HAWQ and its strength and weak.