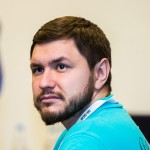 Konstantin Semenov
Senior business analyst, EPAM Systems
Seven years of analyst practice. Had a chance to look at Software Development from the end user, customer and dev. team points of view.
Teacher in EPAM business analysts school.
Reasonable mockups and prototypes
October 13, 15:10
Room II|II зал

With help of mockups and prototypes, IT-teams can visualize the project scope, elicit and clarify the requirements, manage customer expectation and even setup effective communications.
But some complications may occur, like:
· What exactly we should use in this moment?
· How can I make useful and clear prototype or mockup?
· How can we avoid unnecessary expectations from customer side and keep him focused on requirements?
In my presentation we will discuss multiple prototyping issues, including mentioned above, find the proper solution for each case discussed and diminish the project uncertainty level and prototype-related risks.