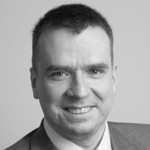 Victor Naumov
Office Managing Partner, Head of the Russian IP, IT and Telecommunications practice, Dentons
Victor Naumov is the Managing Partner in Dentons' St. Petersburg office and the Head of the Russian IP, IT and Telecommunications practice. Victor advises on intellectual property protection and the management of intangible assets; regulation of Internet and e-commerce; IT and data security; regulation of video games, mass media and telecommunications, the Internet of things, 3D printing and robotics.
Victor heads the Cyber-Physical Systems working group as part of implementing the Digital Economy of the Russian Federation program and is also on the main Statutory Regulation working group. He is a member of the Federal Antimonopoly Service Advisory Board on Competition in Information Technology, a Senior Researcher of the Institute of State and Law of the Russian Academy of Sciences, and is Co-chairman of the IT Committee of the American Chamber of Commerce in St. Petersburg. Since 1999, he has participated in the development of draft legislation on IP, IT, innovation, information resources, the Internet and telemedical services for the Russian Federation and RF subjects. He has also assisted in developing model laws in these areas for CIS jurisdictions. Victor's most recent initiatives include the creation of the first robotics draft law in Russia—commissioned by Grishin Robotics—and the development of the draft of the world's first international robotics convention.
Victor is the author of the first online course in Russia on the Internet regulation in Russia (Coursera Open Education platform). Victor is an associate professor of the St. Petersburg State University and lectures in the Economics and Law Faculties. In 2004 he received a state medal for the 300th Anniversary of St. Petersburg for his academic work and in 2007 he received a state medal for his contribution to the computerization of society in Russia.