Master-class. Managing Conflicts With Clients. A Practical Training
October 12, 17:30
Room V|V зал

In this activity the participants will analyze and model most frequent conflict situations with clients of IT-companies and master new communication skills and techniques for managing agressive communication. The training is conducted by Andrei Maiboroda – experienced sales expert in the IT field, CEO @ GreenBusiness, author of Sell Is Help, Doing By Heart and other books.
Andrei Maiboroda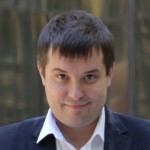 Founder & CEO, Greenbusiness Consulting
Business trainer, author, lector at ITMO University, founder of the first sales performance optimization agency GreenBusiness specializing in IT. Passionate lector and coach.