What happens to IT-education?
October 12, 13:10
Room I|I зал

Discusses the economic reasons for the changes in education in Russia.
After the talk panel discussion University Role in IT Specialists Training will take place.
Boris Steinberg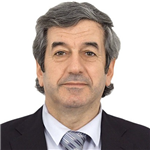 department chair, SFEDU
Boris Shteinberg is a professor of Southern Federal University. Boris has moved from pure mathematics to computer science. As a pure mathematician solved the problem posed by two German scientists at the international conference on applications of pure mathematics to mechanics (Meister E., Speck F.-O. Some multi-dimensional Winer-Hopf equations with applications of Pure Mathematics to mechanics, Kozubnik, Poland, 12-17 September, 1977).